Product Description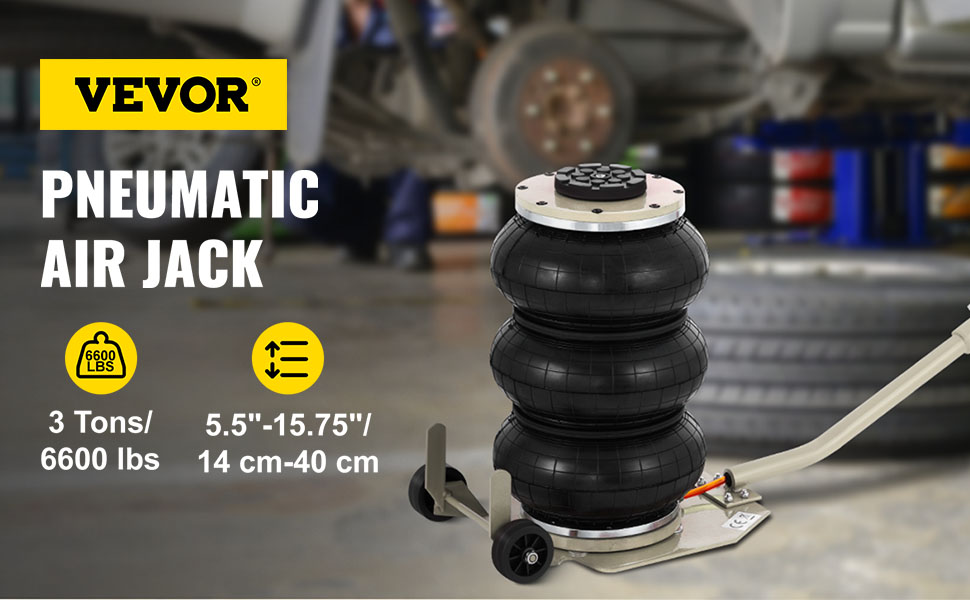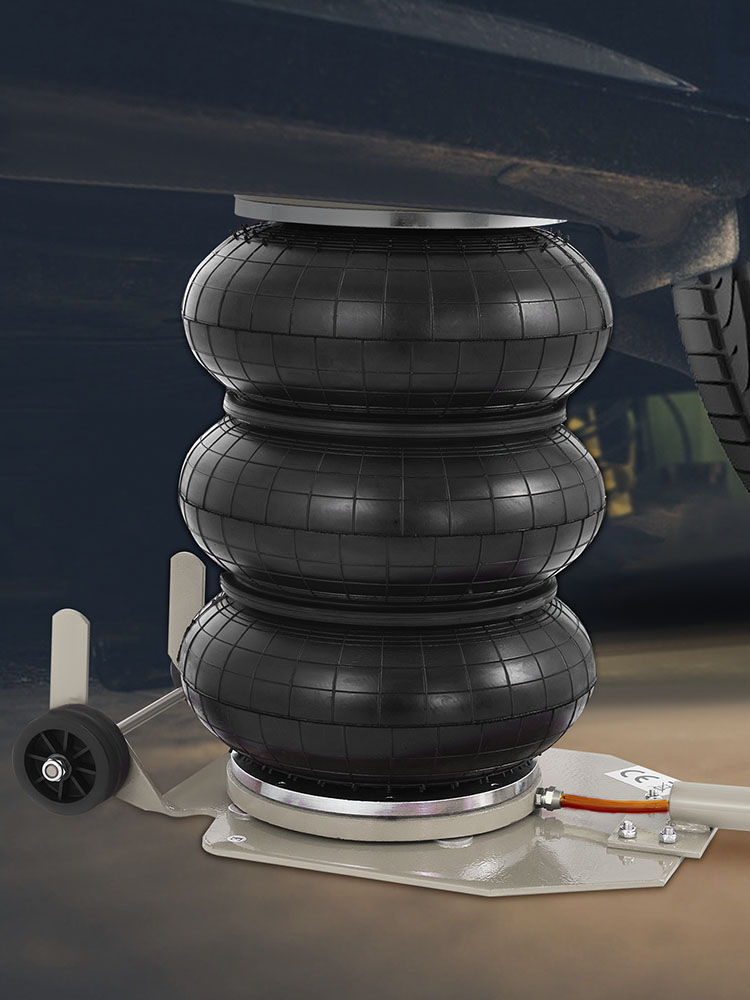 Pneumatic Car Jack
VEVOR pneumatic jack is designed tough and built to last! With 3 tons/5 tons capacity, a lifting range of 5.5"-15.75", and a lifting time of only 3-5 seconds, this triple bag air Jack is compact, powerful, and very fast to use. Inflated with compressed air, they are easy to handle. The pneumatic jack is one of the most useful tools in the body shop.
Labor-Saving Jack

Heavy Duty Construction

Secure Usage

Operable Handle
Tough Equipment & Tools, Pay Less
VEVOR is a leading brand that specializes in equipment and tools. Along with thousands of motivated employees, VEVOR is dedicated to providing our customers with tough equipment & tools at incredibly low prices. Today, VEVOR's products are sold in more than 200 countries and regions with 10 million plus members worldwide.
Why Choose VEVOR?
Premium Tough Quality

Incredibly Low Prices

Fast & Secure Delivery

30-Day Free Returns

24/7 Attentive Service
Key Features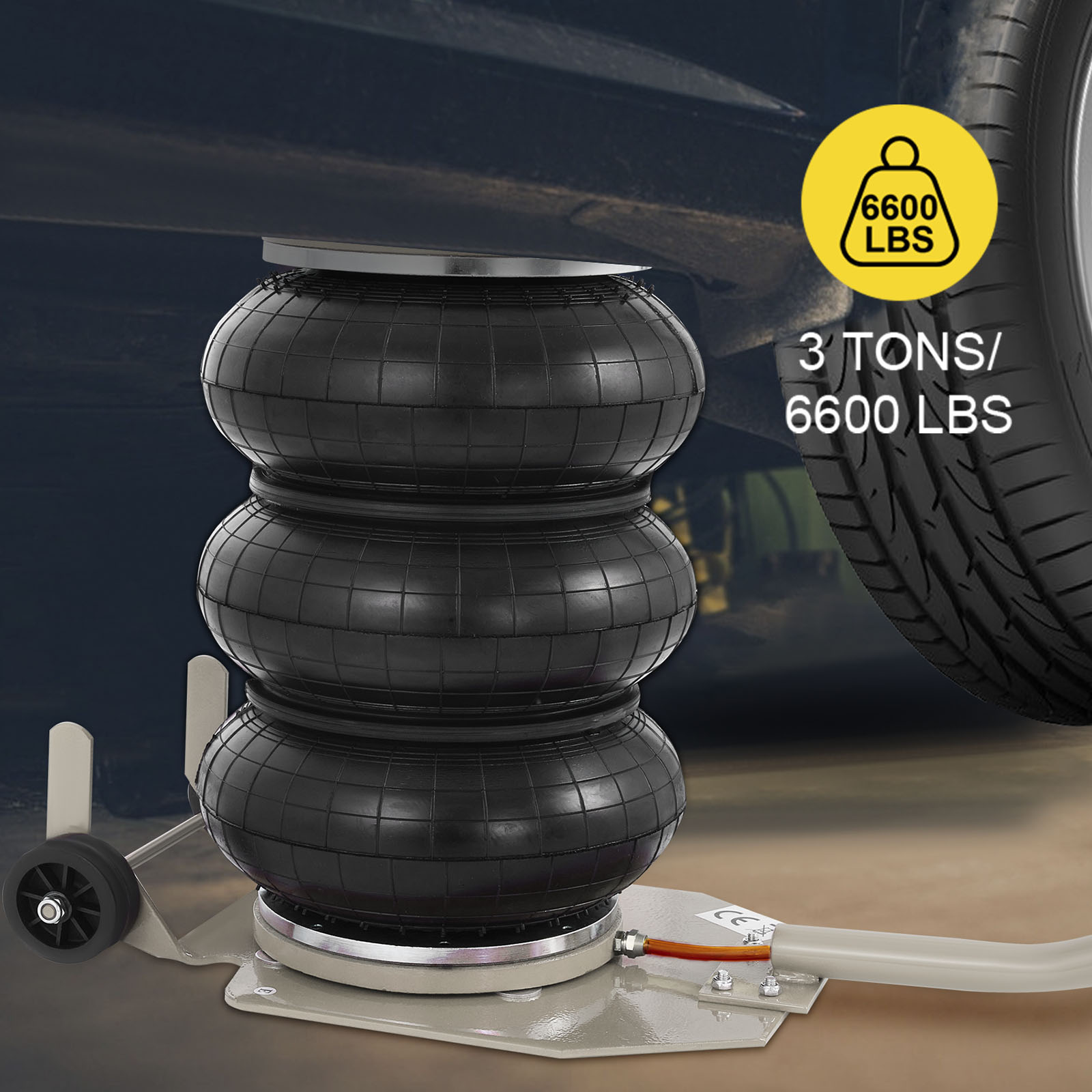 Heavy Duty Loading Capacity
This triple airbag jack can support 3T/5T. It can be used to lift your small cars, family cars, minivans, SUVs and off-road vehicles, or other heavy objects.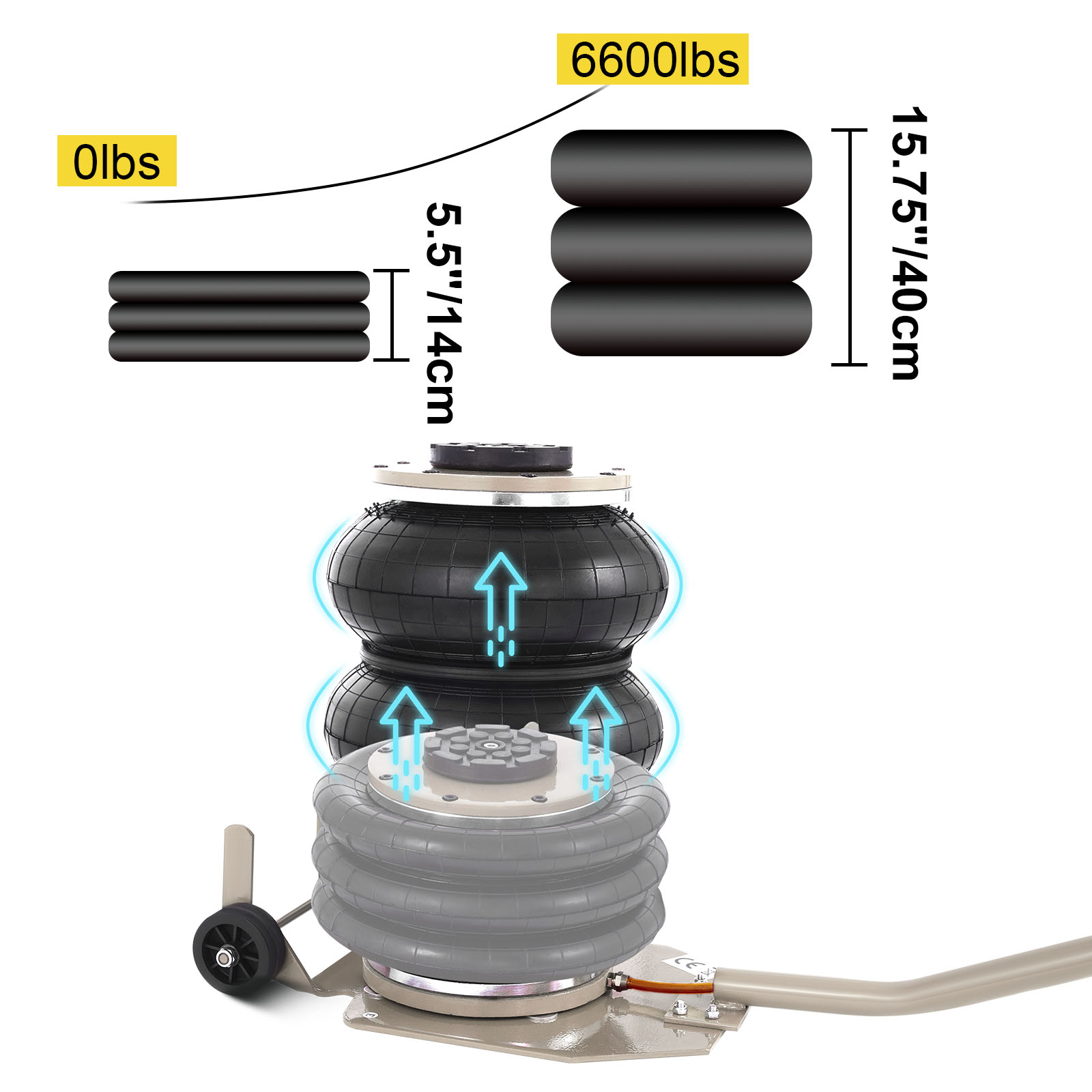 5.5"-15.75" Lifting Range
It only takes 3-5 seconds to lift from 5.5"/140 mm to 15.75"/ 400 mm, the max. Lifting height is suitable for most vehicles. Working Temp: -60℃~ 50℃.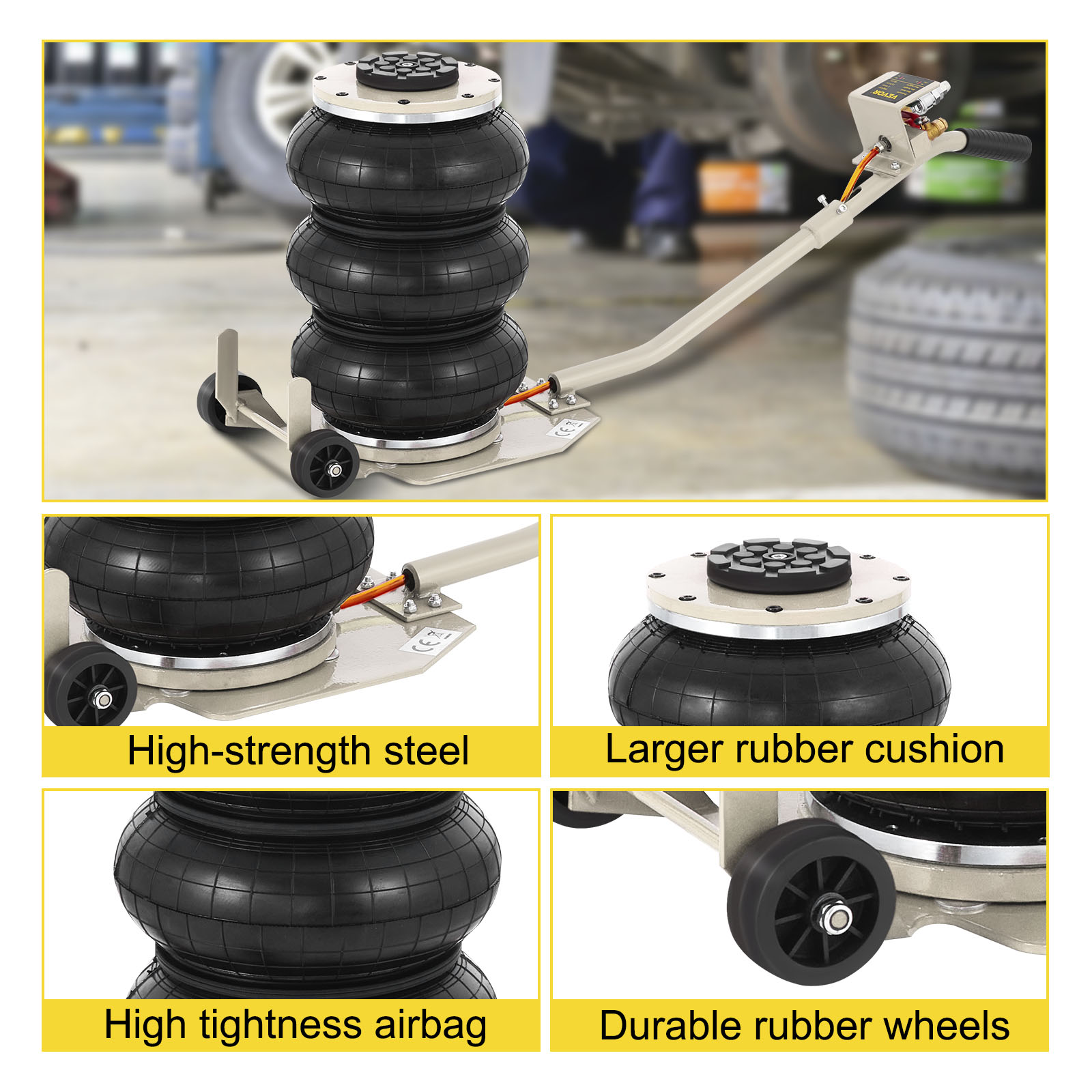 Solid Construction
The thickened rubber and steel plate work together to make the lifting securer and more stable. And the combination also reduced the impact and led to precise lifting.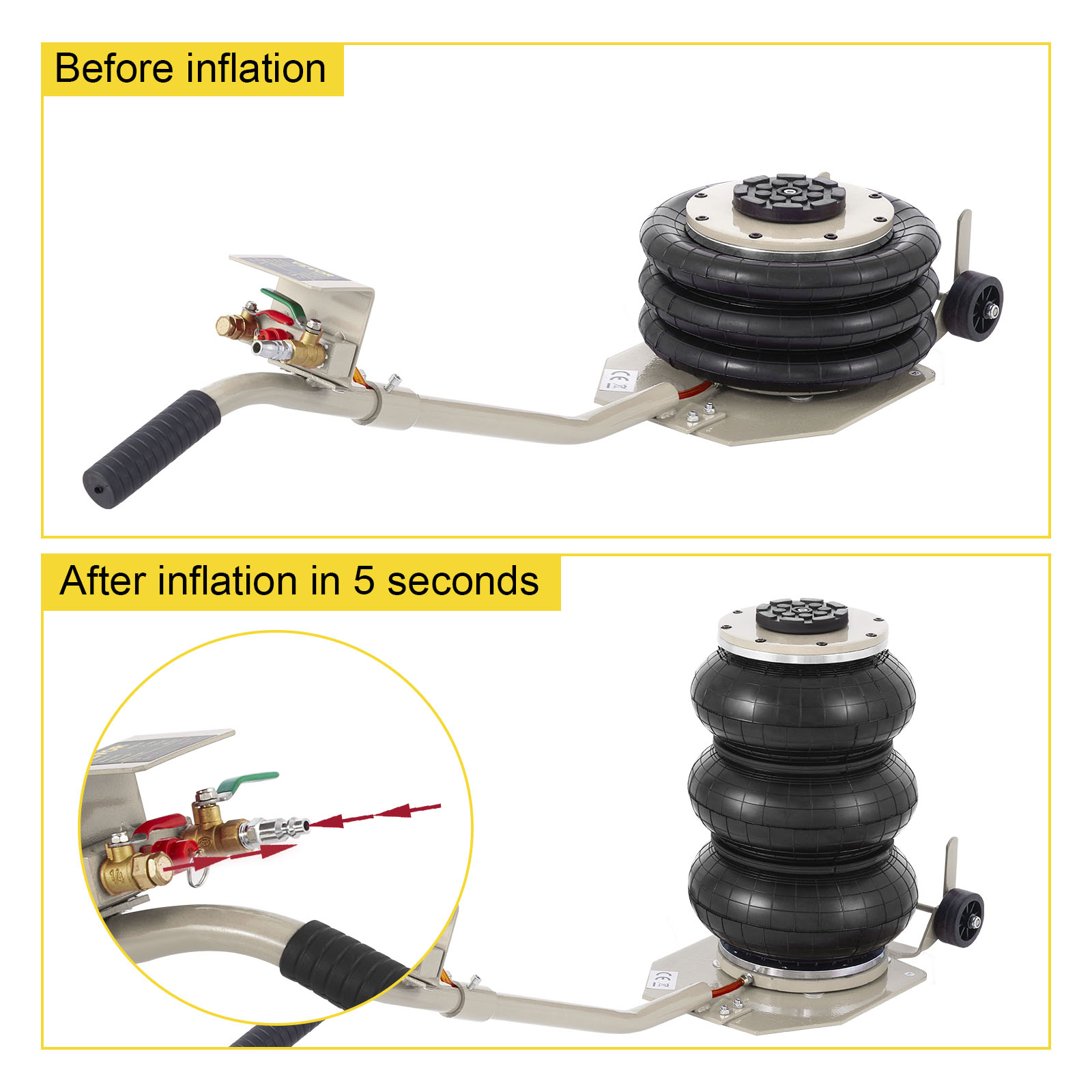 Easy Operation
There are three valves on this triple airbag jack: air input valve, air outlet valve, relief valve, which can help you operate the jack securely and quickly.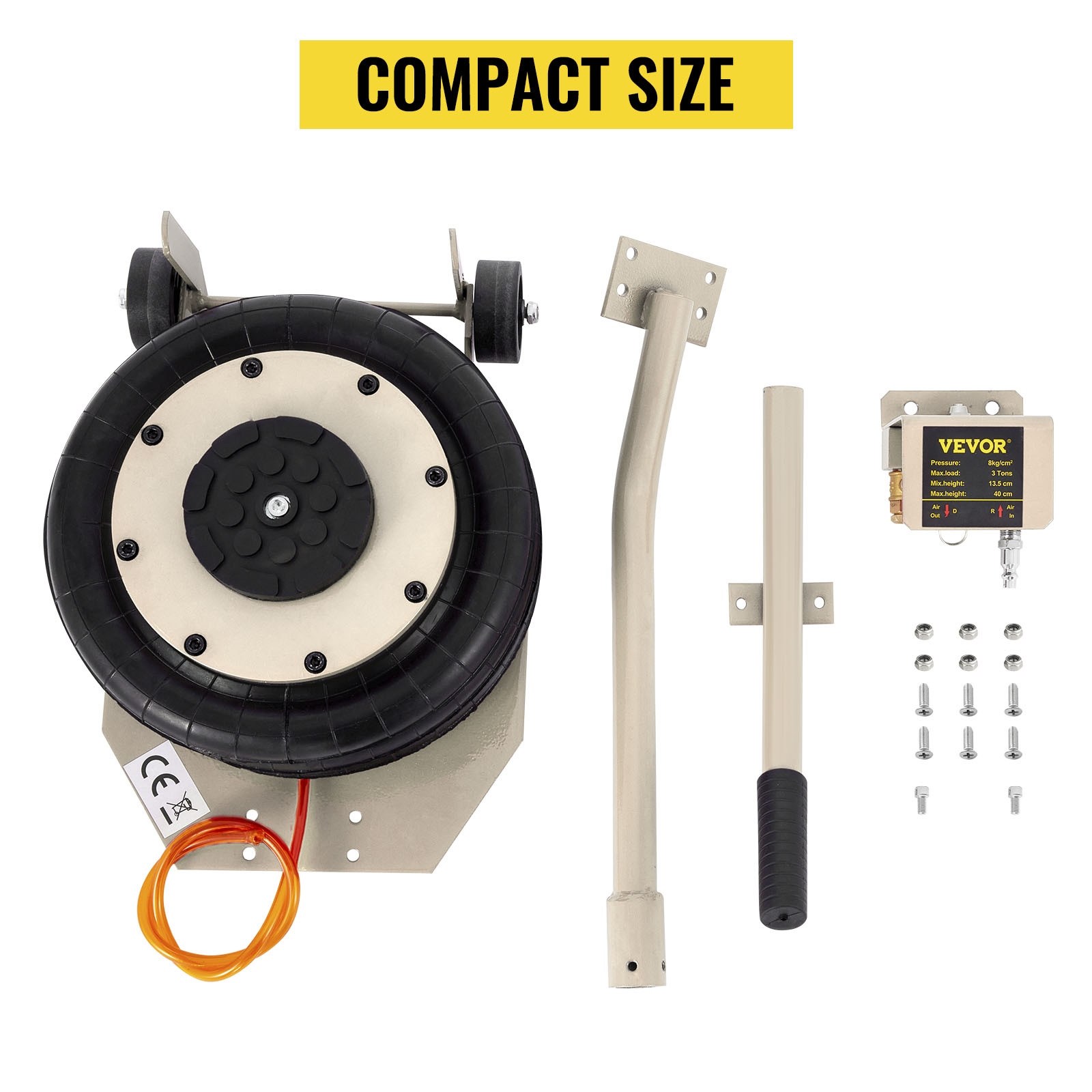 Long Lever Handle
The long lever makes it easier for you to move the jack. In addition, the handle can be detached, does not occupy too much space, and can be easily placed in the trunk.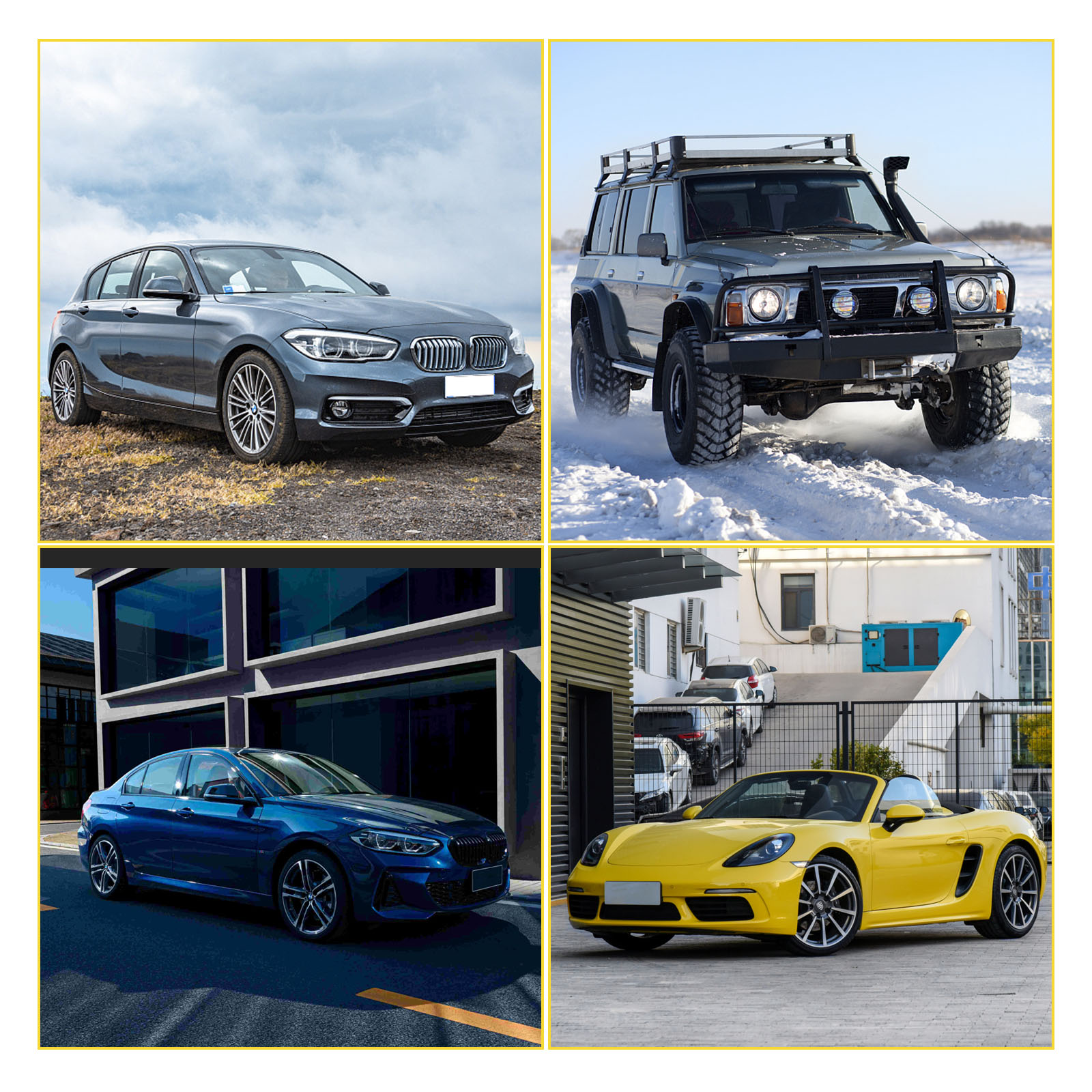 Wide Application
The pneumatic jack lift is great for heavy lifting in auto shops, repair shops,  household warehouses and is suitable for family cars, minivans, SUVs, off-road vehicles, etc.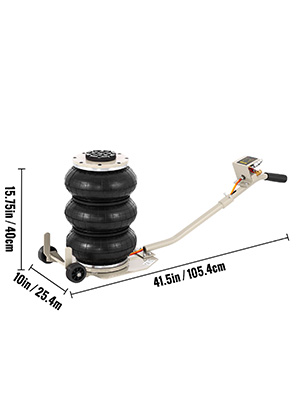 Specifications-3 Ton
Model: 3T Pneumatic Jack

Capacity: 3.0 ton / 6600 lbs

Min. Height: 140 mm / 5.5 inches

Max. Height: 400 mm / 15.75 inches

Air Inlet: G1/4

Color: White / Blue / Red / Black

Lifting Time: 5 Sec

Working Temp: -60℃~ 50℃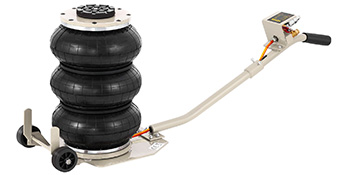 Package Content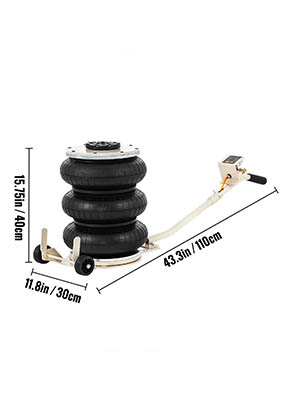 Specifications-5 Ton
Model: 5T Pneumatic Jack

Capacity: 5 Ton/11000 lbs

Min. Height:160 mm/6.3''

Max. Height: 400 mm/15.75''

Air Inlet :G1/4

Lifting Time: 5 Sec

Working Temp: -60℃~ 50℃

Color: White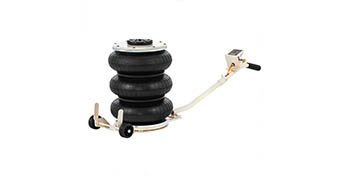 Package Content
Features & Details
Labor-Saving Jack: The pneumatic jack capacity: 5T/3T. Minimum height: 5.5"/ 140 mm. Maximum height: 15.75"/400 mm. It only takes 5 seconds to lift. Working Temp: -60℃~ 50 ℃. Air inlet: G1/4. Our triple bag jack is the easiest and fastest way to make the car lifted.

Heavy Duty Construction: Our pneumatic jack is a high-strength steel that makes the whole body sturdy and durable. Highly sealed airbags will not leak or be scratched. In addition, our wheels are better suitable for all-terrain, helping you maintain your car anytime, anywhere.

Secure Usage: First, keep the red valve closed, open the green valve, and input the compressed air; when inflating to the height, turn off the green valve. After use, open the red valve to bleed off air. The safety valve in the middle ensures the injected gas is not excessive to ensure the security of the use process.

Operable Handle: This airbag jack has a long handle, which makes the jack easy to move and use. And this handle can be disassembled from the middle, saving space and making it suitable for you to keep in your trunk.

Wide Application: The quick jack car lift is suitable for the situation where a single wheel needs to be lifted in soft terrain or muddy roads for family-used cars, minivans, SUVs, and off-road vehicles.

When you find your air jack is not properly positioned, we suggest you to bleed the air and set once again. As a deflective air jack may lead to displacement of your vehicle.

Before lifting your vehicle, please check carefully whether there are sharp objects nearby, as they may hurt the air jack and vehicle.

To avoid damage, please make sure not to place air jack near scorching exhaust system.

100% complete stability cannot be assured whatever lifting jack you choose, no one should be allowed to go under the vehicle when it's lifted.

Do not try to lift weight beyond capacity.